Overview
Do you love your pets? Then My Pets is the perfect app for you! My Pets lets anyone with a pet keep track of essential information! My Pets features an attractive, simple user interface that will help you remember and conveniently share that vital info for your furry family member!

Get My Pets
for webOS
on the App Catalog.

Requirements:
Compatible with Palm Pre and Pixi.
Requires webOS 1.3.1 or higher.
Learn More…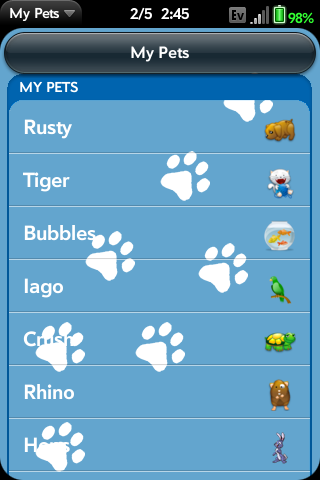 Easily view and manage all your pets from the home screen.
My Pets features fun graphics and lovable icons throughout!
Support for:
dogs
cats
fish
birds
rabbits
turtles
hamsters
ferrets
hedgehogs
horses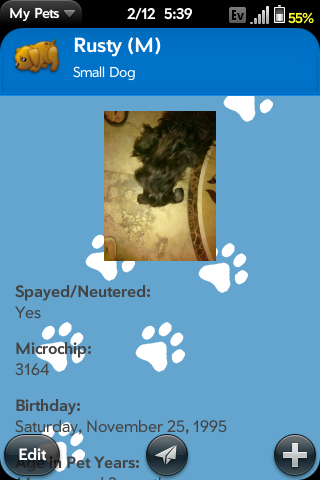 Quickly and easily view and track your pet's essential information.
Track information including:
Name
Breed
Microchip Number
City License Info
Registration Number
Spayed/Neutered
Birthday
Info for the sitter
Photo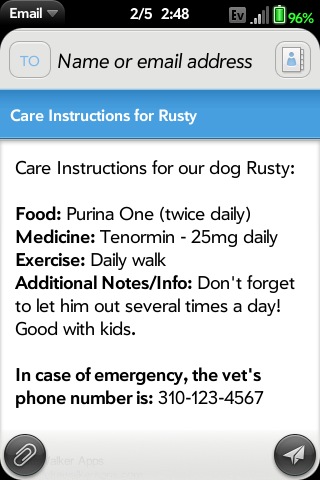 No more writing long lists of instructions for your pet's sitter! With the tap of a button, you can send an email with all of your pet's care instructions.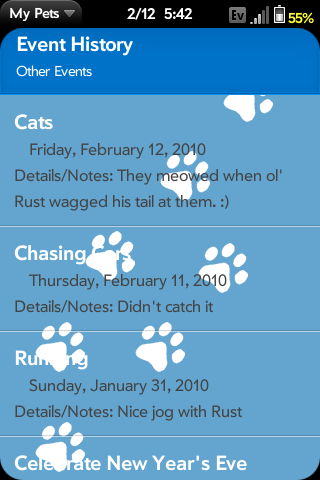 Event tracking is one of the most powerful elements of My Pets.
Easily remember and reference the last time your pet went to the vet, got a shot, had a grooming, and more!
Trackable events include:
Vet Visit
Vaccination/Shot
Medication
Worm Meds (for dogs & horses)
Grooming
Training Session
Journal Entry
Custom Events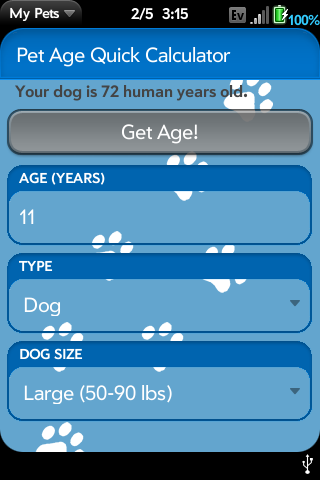 Wonder how old your pet really is? Did you know that determining the age of your dog or cat is not just a matter of multiplying by 7? There is actually a scientific formula that reflects the fact that your pet goes from newborn to adult in a year or less, and ages differently as a senior as well.
My Pets uses this advanced formula to automatically calculate your dog or cat's age in human years.
Want to figure out the age of another animal that's not your own? My Pets includes a handy age calculator tool to figure the human age of any dog or cat!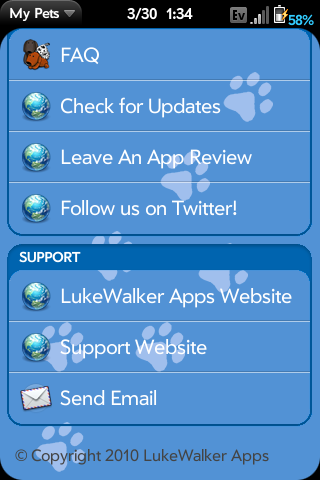 LukeWalker Apps is fully committed to providing support for all of our apps.
Get fast help on any problems you have by web, email, or phone.
Follow us on Twitter to find out about upcoming updates, apps, or to get support.
Let us know your feature requests by web, email, or phone.