Overview
Curious about the National Debt? Now you can get the official amount of the U.S. Government's national debt every day, right on your phone! National Debt uses the official Treasury daily published amount to give you the up-to-the-penny total of the National Debt. It even includes an option to send the most recent debt total via text or email, so you can keep your friends and family updated!

Get National Debt
for webOS
on the App Catalog.

Requirements:
Compatible with Palm Pre and Pixi.
Requires webOS 1.3.1 or higher.
Learn More…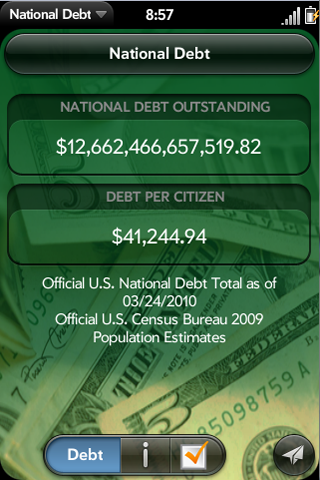 National Debt automatically retrieves the most current official total of the U.S. Government's national debt directly from the U.S. Treasury website.
Using the most current official population figures from the U.S. Census website, National Debt computes the debt per citizen based on the most recent official debt total.
The most current numbers are stored on the device so that you can reference the app even if you don't have an active data connection.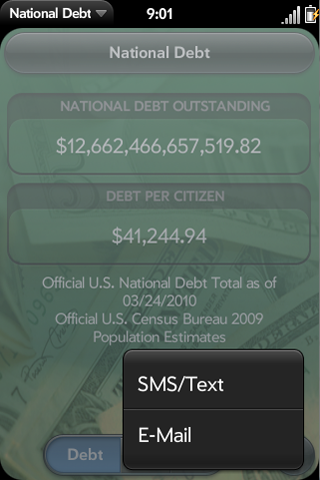 Share the amount of the current national debt with whoever you like. The simple tap of a button allows you to send an SMS or email with today's total.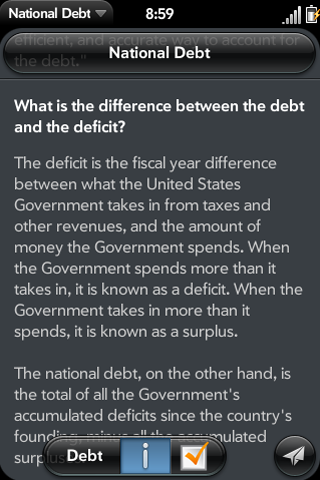 National Debt includes an easy to use, plain language FAQ section to help in understanding the terminology used in conjunction with the national debt.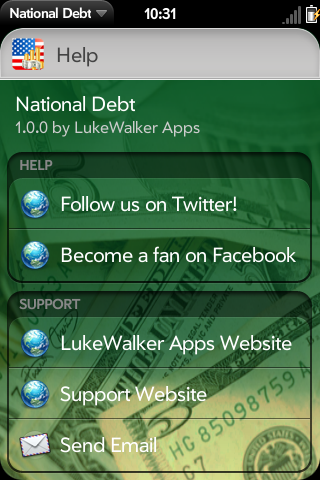 LukeWalker Apps is fully committed to providing support for all of our apps.
Get fast help on any problems you have by web or email.
Follow us on Twitter to find out about upcoming updates, apps, or to get support.
Let us know your feature requests by web or email.