Overview
Need a quick random number? How about help with your lottery picks? Going to play a board game but can't find enough dice? Need to flip a coin or two? Random Numbers Pro is a tool that should be on every webOS phone, so that when you need it, you can have it!

Get Random Numbers Pro
for webOS
on the App Catalog.

Requirements:
Compatible with Palm Pre and Pixi.
Requires webOS 1.3.1 or higher.
Random Numbers Pro is customizable with three different themes! It remembers the last number, coin, or dice, so you can come back a day or a week later and see it again!
Learn More…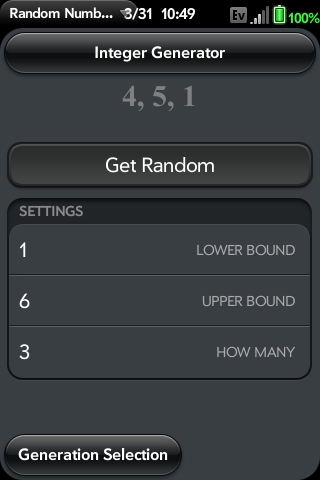 The Integer Generator lets you generate any number of random integers.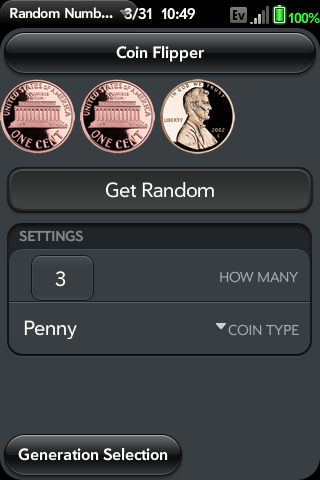 The coin flipper lets you flip up to 12 coins at once.
Choose to flip a penny, nickel, dime, or quarter!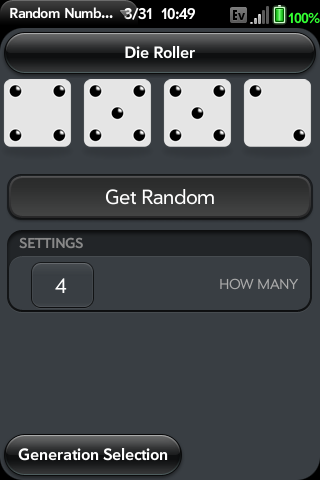 The die roller is perfect for playing games.
Roll up to 12 dice simultaneously.
The Sequence Generator is like the Integer Generator, except it guarantees uniqueness (no repeats) in the random numbers selected.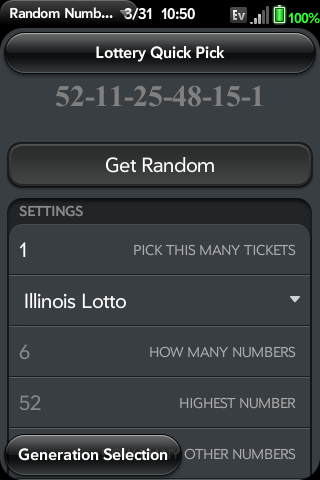 Using random numbers is a great way to play the lottery!
Random Numbers Pro includes over 30 different lotteries pre-defined, so you can play your favorite game with just the tap of a button!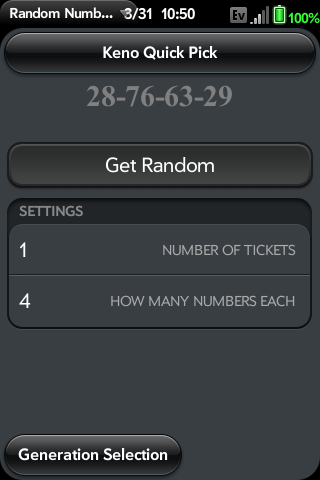 Keno player? Random Numbers Pro will help you pick random numbers for as many keno tickets as you choose with the tap of a single button.
Be sure to bring Random Numbers Pro along on your next trip to the casino!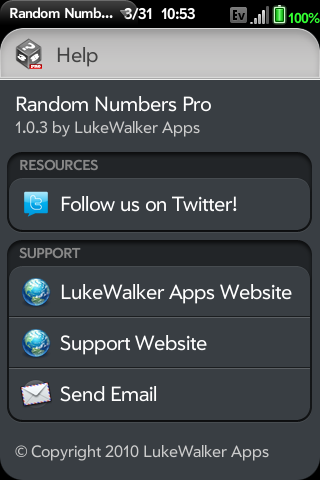 LukeWalker Apps is fully committed to providing support for all of our apps.
Get fast help on any problems you have by web, email, or phone.
Follow us on Twitter to find out about upcoming updates, apps, or to get support.
Let us know your feature requests by web, email, or phone.