Overview
Why pay for a random number generator? This app can generate numbers in any user-defined range, including negative numbers. A great, free utility for when you just need a quick, random number.

Get Random Numbers
for webOS
on the App Catalog.

Requirements:
Compatible with Palm Pre and Pixi.
Requires webOS 1.3.1 or higher.
Available languages: English, German
Learn More…
Random Numbers allows you to quickly and easily generate a random number in a given range!
A random number generator has many uses, including, but not limited to:
dice rolls
lotto picks
coin flipper
random dates/times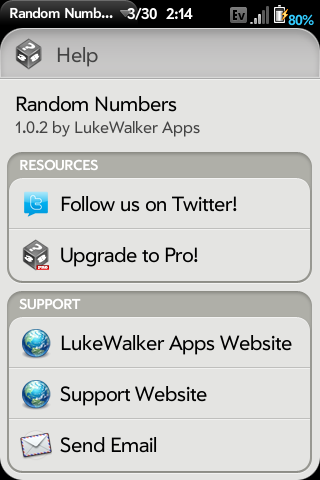 LukeWalker Apps is fully committed to providing support for all of our apps.
Get fast help on any problems you have by web or email.
Follow us on Twitter to find out about upcoming updates, apps, or to get support.
Let us know your feature requests by web or email.