Overview
Frustrated at the slow-moving traffic on I-15? Worried about snow driving through the canyon? Planning that ski trip for this weekend? Let all your worries melt away with Utah Traffic. Utah Traffic delivers up to the minute traffic information in a beautiful, easy to use interface that every Utah driver will love!

Get Utah Traffic
for webOS
on the App Catalog.

Requirements:
Compatible with Palm Pre and Pixi.
Requires webOS 1.4.5 or higher.
Learn More…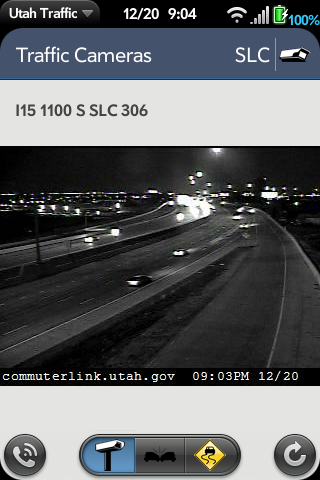 Get instant on-device access to all of UDOT's nearly 700 traffic cameras.
Cameras are organized by region so you can find the information you need fast!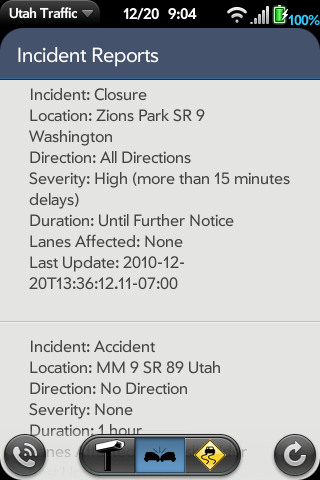 Wondering why traffic is moving so slowly? Find out if there's been an accident, road closure, or some other incident right on your phone!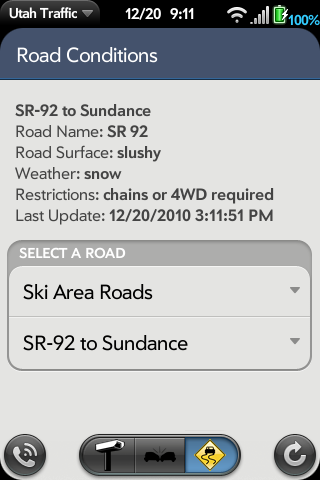 Know before you go! Get the latest official road advisories all winter long, including road surface conditions, weather, and driving restrictions.
Note that UDOT only publishes road conditions reports from Nov 1 – Apr 15.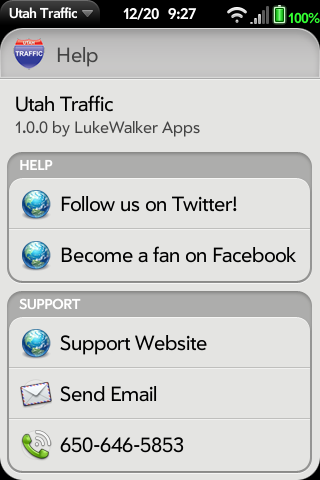 LukeWalker Apps is fully committed to providing support for all of our apps.
Get fast help on any problems you have by web or email.
Follow us on Twitter to find out about upcoming updates, apps, or to get support.
Let us know your feature requests by web or email.
Please drive responsibly! Never use your phone or a mobile device while operating a moving vehicle.
All information in Utah Traffic comes from UDOT at commuterlink.utah.gov